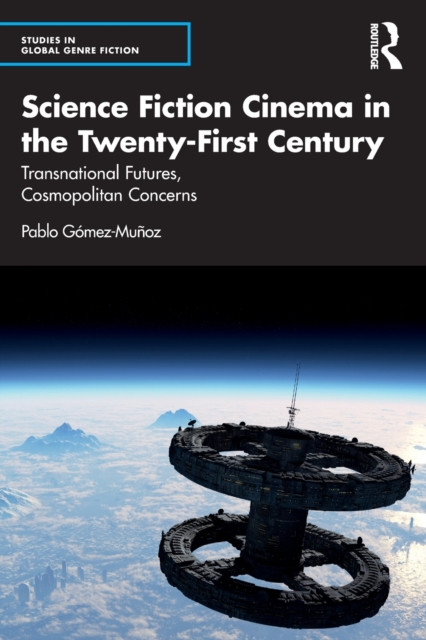 Science Fiction Cinema in the Twenty-First Century
Transnational Futures, Cosmopolitan Concerns
Pablo Gómez-Muñoz
Recent films are increasingly using themes and conventions of science fiction such as dystopian societies, catastrophic environmental disasters, apocalyptic scenarios, aliens, monsters, time travel, teleportation, and supernatural abilities to address cosmopolitan concerns such as human rights, climate change, economic precarity, and mobility. This book identifies and analyses the new transnational turn towards cosmopolitanism in science fiction cinema since the beginning of the twenty-first century.
The book considers a wide selection of examples, including case studies of films such as Elysium, In Time, 2012, Andrew Niccol's The Host, Codependent Lesbian Space Alien Seeks Same, and Cloud Atlas. It also questions the seeming cosmopolitanism of these narratives and exposes how they sometimes reproduce social hierarchies and exploitative practices.
Dealing with diverse, interdisciplinary concerns represented in cinema, this book in the Studies in Global Genre Fiction series will be of interest to readers and scholars working in the fields of science fiction, film and media studies, cosmopolitanism, border theory, popular culture, and cultural studies. It will also appeal to fans of science fiction cinema and literature.
ABOUT THE AUTHOR
Pablo Gómez-Muñoz is Assistant Professor of English and Film at the University of Zaragoza (Spain). His research interests are transnational cinema, science fiction, borders, cosmopolitanism, globalization, precarity, and spectacle. His work has been published in journals such as Geopolitics, Journal of Transnational American Studies, and Atlantis and volumes such as Making Sense of Popular Culture and Frontières au Cinéma.
Published within Routledge's series Studies in Global Genre Fiction, Gómez-Muñoz's volume exhibits extremely solid scholarship and great ambition, as required by his decision to tackle all of twenty-first-century cinema in relation to topics as complex as transnationalism and cosmopolitanism… Gómez-Muñoz's ambitious volume calls attention, to sum up, to how the transnational cosmopolitanism of twenty-first-century sf films could be improved and enhanced if only filmmakers and spectators paid more attention to how the world is constituted by racial, socioeconomic, and geographical borders..
Sara Martín, Science Fiction Film and Television
Table of Contents
Introduction: Transnational Futures, Cosmopolitan Concerns
1. Systemic Dystopias through a Cosmopolitan Lens: Contesting Global Neoliberalism
2. Greening Apocalypse: Eco-Conscious Disaster and the Biopolitics of Climate Change
3. Love for the Alien Same: Interplanetary Romance and Kinship as Harbingers of Ambivalent Cosmopolitanism
4. The Cosmopolitan Potential of Connections across Time and Space
Conclusion